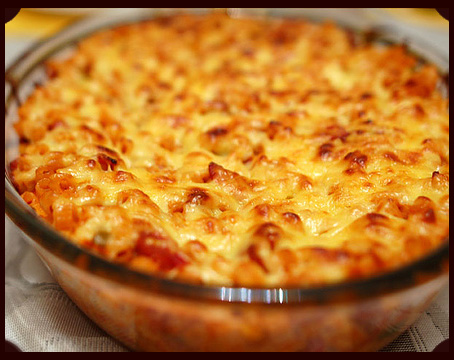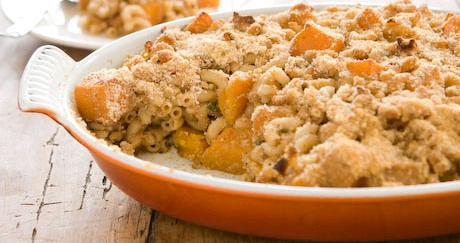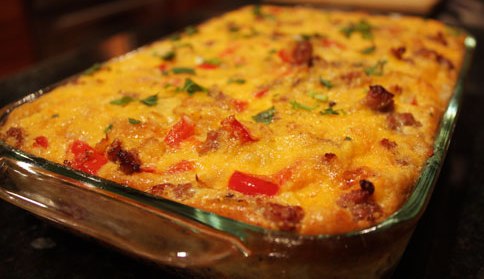 Eight Layer Casserole Recipe
Awesome Casserole! I omitted the sugar & garlic powder, added black olives, added crushed garlic to hamburger as it was cooking. I was serving this to grandkids who don't like veggies, so I finely chopped spinich. They didn't have a clue :)

3 cups  dried medium noodles (6 ounces)

1 pound  ground beef

2 8-ounce cans  tomato sauce

1 teaspoon  dried basil, crushed

1/2 teaspoon  sugar

1/2 teaspoon  garlic powder

1/4 teaspoon  salt

1/4 teaspoon  black pepper

1 8-ounce carton  dairy sour cream

1 8-ounce package  cream cheese, softened

1/2 cup  milk

1/3 cup  chopped onion (1 small)

1 10-ounce package  frozen chopped spinach, cooked and well drained

1 cup  shredded cheddar cheese (4 ounces)

Directions

1. Cook noodles, drain, and set aside

2. In a pan, cook ground beef until browned

3. Stir in tomato sauce, sugar, basil, garlic powder, salt, and pepper. Bring to boil and reduce heat.

4. In a mixing bowl, mix the sour cream and cream cheese until smooth. Stir in milk and onion.

5. In the casserole dish, start with half the noodles, half the meat mixture, half the cream cheese mixture, and all the spinach. Repeat layers and Bake for 45 minues.

6. Top with cheddar cheese and bake for 10 more minutes.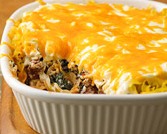 Copyright 2011 Casserole Recipes. | Eight Layer Casserole Recipe: All Right Reserved